OMIClear started its activity as Clearing House and Central Counterparty (CCP) in July 2006, following the approval of CMVM (Portuguese Securities Market Commission).
On October 31st 2014, following the implementation of Regulation (EU) N.º 648/2012 of the European Parliament and of the Council of 4 July 2012 on OTC derivatives, central counterparties and trade repositories (EMIR) OMIClear was granted a specific approval from the EMIR College to act as an 'authorised CCP'  to provide clearing services in Europe.
OMIClear is included in the list of central counterparties authorised to offer services and activities in the European Union in accordance with EMIR, published by ESMA (https://www.esma.europa.eu/sites/default/files/library/ccps_authorised_under_emir.pdf) and is member of the European Association of CCP Clearing Houses (EACH).
CMVM is the 'national competent authority', assuming the role of the ongoing supervision of OMIClear's activity and compliance with the obligations laid down in EMIR regulation.
OMIClear strives to provide the clearing and settlement services with excellence, professionalism and following the best practices.
As a CCP, OMIClear becomes the buyer counterpart to every seller and the seller counterpart to every buyer (the so called 'novation' process) as from the moment an order is matched or the bilateral trade (OTC) in registered in the connected Market and accepted by OMIClear for clearing and settlement purposes.
Currently OMIClear assumes the CCP role for the following connected Markets:
OMIP - Pólo Português, S.G.M.R. S.A. - a Regulated Market as defined in article 4 (1) of Directive 2014/65/EU of the European Parliament and of the Council, of 15 May 2014 (MIFID II);
Mibgas Derivatives S.A. – an Organised Market, in accordance with article 2 (4) a), of Commission Implementing Regulation (EU) 1348/2014 of 17 December 2014;
Mibgas S.A. - an Organized Market, in accordance with article 2 (4) a), of Commission Implementing Regulation (EU) 1348/2014 of 17 December 2014 which was designated by Spain's Law 8/2015 of May 21st amending Law 34/1998 of October 7th, regarding the Hydrocarbons Industry.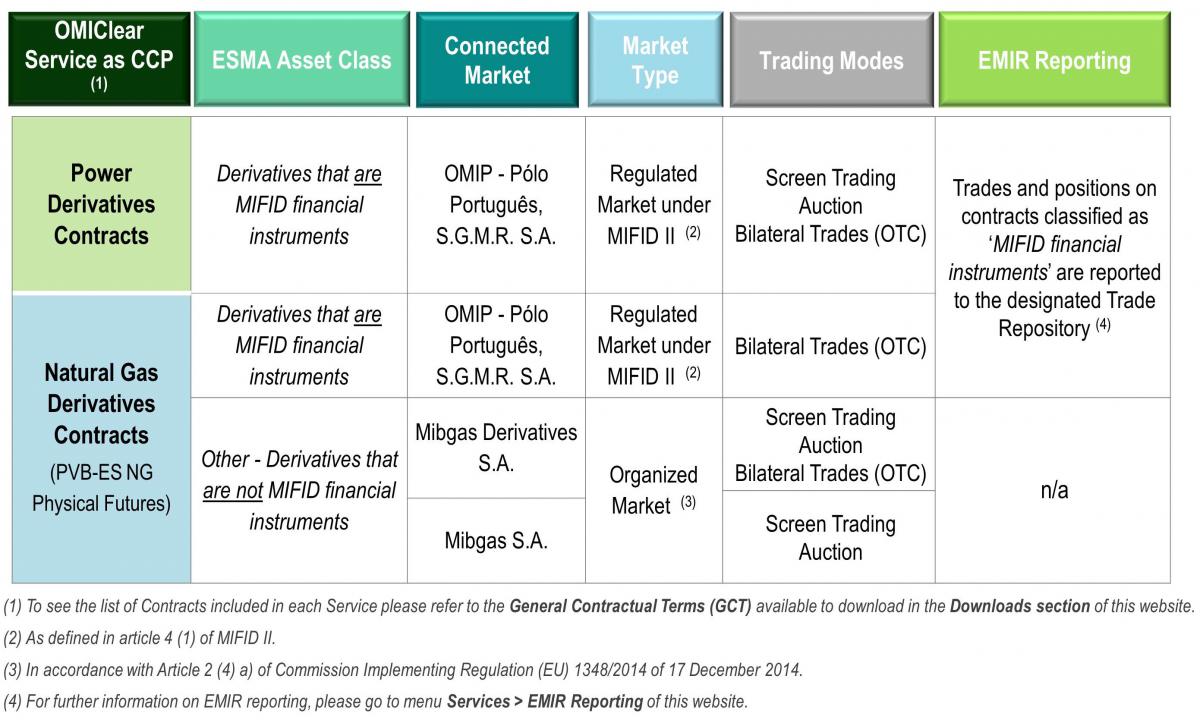 The clearing and settlement activity comprises the following functions:
Positions registration;
Assessment of the risk exposure arising from these positions;
Collateral requirements to cover such risk exposure;
Management of cash settlements at TARGET2 payment system;
Notifications of the physical positions to third parties (Iberian power spot market and Iberian natural gas TSO);
Billing process.
OMIClear has in place a rigorous and transparent risk management framework, backed by multilayered resources in the form of margins to cover potential losses of risk takers ("defaulter pays"), dedicated own funds ("skin in the game"), clearing fund contributions (that consists of a risk-sharing arrangement among its members) and equity capital. The default waterfall is designed to ensure further incentives for robust risk management.